3 Reasons Arizona Is Ground Zero for Immigration Policy
While President Obama speaks about the economy at a Phoenix high school on Tuesday, protesters will be outside, reminding the public about his record on immigration.
That's what we've come to expect in recent years.
Arizona became ground zero in the immigration debate when the state passed a law meant to curb illegal immigration in 2010. Critics said that the "show me your papers" law, SB 1070, was discriminatory, and the Supreme Court ruled much of it unconstitutional two years after it was signed into law.
But immigration is still a huge issue in Arizona. Here's why:
1. Location Yeah, we're kind of pointing out the obvious here: Arizona is a border state.
But the number of apprehensions -- immigrants caught crossing the border illegally -- spiked in the Tucson area during the mid-1990s and through the 2000s.
Part of the reason was a plan by Border Patrol to secure traditional smuggling routes and force migrants into more hostile terrain, outlined in a 1994 agency document.
The plan specifically called for locking down the San Diego and El Paso corridors, which more heavily trafficked by migrants at the time. Apprehensions in both those areas dropped off dramatically in the decade that followed.
Over the same period, traffic in Arizona's Tucson sector heated up. The number of people getting caught in that area increased more than fourfold over six years, going from 139,473 apprehensions in 1994 to a record-setting 616,346 in 2000.
2. Demographics Arizona is also a state with rapidly changing demographics. Basically, it's getting more Hispanic.
Among the counties that had the fastest-growing Hispanic populations from 2000 to 2007, Arizona's Maricopa County, which includes parts of Phoenix, placed second with nearly 420,000 new Hispanic residents over that time. Only Los Angeles had more.
And these new residents were coming to a state that didn't have a large Latino population, at least compared to places like California and Texas. Hispanics made up 17 percent of Arizona residents in 1970; they made up more than 30 percent in 2012.
But changing demographics alone aren't what made immigration a major issue. These guys played a role:
3. Politicians For some insight into the political history in Arizona, I reached out to Terry Greene Sterling, a journalist and the author of Illegal: Life and Death in Arizona's Immigration War Zone.
Sterling boiled it down to a few big moments.
First, there was the rise of the Tea Party in the state. Republican politicians like former State Senator Russell Pearce campaigned on stricter immigration policies, attracting voters who didn't want to see Arizona's Hispanic population to continue growing.
As Tea Party conservatives came to dominate the state legislature, they were able to pass the granddaddy of all bills against illegal immigration, SB 1070.
But even that might not have passed if it wasn't for a decision by the Obama administration. When the president tapped then-Arizona Gov. Janet Napolitano to become his secretary of homeland security in 2009, he upset the balance of power in the state.
Napolitano, a Democrat, left office to head to Washington. Republican Gov. Jan Brewer took her place, eventually signing SB 1070 into law. Had Napolitano stayed in Arizona, she likely would have vetoed the bill.
SOURCE
Russia detains immigrants in 'concentration camps'
Hundreds held in makeshift facility in Moscow as part of a widespread crackdown on illegal immigration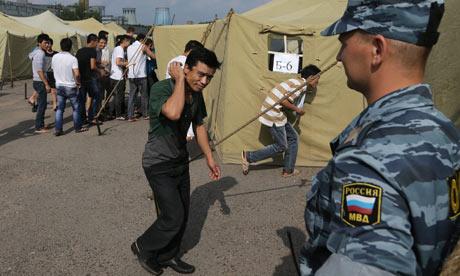 Russian authorities have detained hundreds of migrant workers in a makeshift camp in Moscow as part of a widespread crackdown on illegal immigration.
Human rights campaigners have decried conditions in the camp, which is part of a planned national network of detainment centres to hold foreign nationals facing deportation.
More than 600 people were initially held in tents in the camp in an industrial area of Moscow, although there were reports that 200 were moved to formal detention centres yesterday. Opponents say the centres are illegal, comparing them to concentration camps or gulags.
"The paradox of a concentration camp for illegals is that the concentration camp itself is illegal," writer and activist Oleg Kozyrev tweeted to more than 32,000 followers.
Russia currently has 21 detention centres for immigrants facing deportation, but authorities have prepared a bill that would create 83 special centres across the country's 81 regions.
The immigrant crackdown began after a fight on 27 July at a Moscow market between natives of Russia's Dagestan region and police who had come to arrest one of them on charges of rape. A relative of the wanted man struck an officer with brass knuckles, injuring his forehead. Much of the incident was captured on video in a clip widely circulated on the internet.
On 29 July, police began raiding markets around the city and arresting immigrants whose documents were not in order, most of them from the Caucasus and Central Asia.
Of the 11 million immigrants in Russia, about three million have exceeded their visas and most are thought to be working illegally, according to the head of the migration service.
On 31 July, law enforcement agents closed an illegal garment factory in an industrial area on the city outskirts, detaining at least 1,200 people, most of them from Vietnam. The next day police announced the creation of a temporary camp near the site of the illegal factory to hold some of the detained immigrants, who have 10 days to appeal against a deportation decision. Reporters who were allowed to visit the tents, pitched in a paved area that once held a market, described appalling conditions.
The interior ministry has claimed the site has a capacity of 900, but the Novaya Gazeta newspaper found immigrants crowded into cramped, stifling tents, with four outdoor showers and a long row of portable toilets.
The paper spoke to many held in the camp who had been unable to contact friends and relatives as there is no electricity to recharge their phones.
"It's not the best conditions . their telephone conversations are limited, and they're under guard like in a prison," said Bakhrom Khamroyev, an activist from the society Political Immigrants from Central Asia, who visited the camp.
But Khamroyev said the conditions were better than those in a municipal garage he visited outside Moscow, where 30 Uzbek workers arrested in a raid on Moscow's Kommunarka market on Sunday. He said the immigrant workers, who were being guarded by men with machine guns, told him they had been beaten during the raid.
Ethnic tensions have flared up in Russia, with residents of the southern city of Pugachev taking to the streets protesting against arrivals from the Caucasus region after a Russian man was stabbed to death in a fight with a Chechen teenager.
"I don't support this approach [of mass detentions] but it's legal," said Remat Karimov, a spokesman of the Labour Union of Migrant Workers.
"You need to wait until this is reflected in the fact that there will be no one to construct buildings, there will not be anywhere to eat in Moscow. If they employed these methods in Sochi it wouldn't be possible to hold the Olympics because the buildings are being constructed by mostly illegal immigrants."
SOURCE